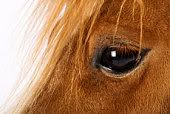 Five years ago Mr. Money and I lived in Colorado. We were both working for a RadioShack store and Mr. Money was also teaching snowboarding. While we worked at RadioShack, we met this very nice woman who bred miniature horses. She was so sweet and kind, and the pictures of her horses she brought in were beautiful. She knew that I had grown up riding and training horses, and one day she asked me if I'd be interested in working with the horses.
I couldn't say yes any faster than I did.
So I quit my job (with health insurance) and we moved out of our condo into a house on her property. We agreed that she would pay us $10 an hour each for our work. I would be responsible for cleaning barns, breeding horses, doing paperwork, and any other things she wanted me to do. Mr. Money would be the handyman. Fine and dandy, right?
We thought that because we weren't paying any rent (she said that the house was worth $500,000 and would rent for $4,000 a month so that was included in our "salaries") that we would come out ahead. Well, after a few months of working there and realizing that we wouldn't be able to live on $10 an hour and no health insurance, we decided that we needed a change. We decided Mr. Money would attend culinary school, and set forth on searching for a school. We had considered moving to Denver, but in the end decided we'd rather move to where we live now. We probably should have just stayed there.
Thankfully, Mr. Money enjoyed culinary school, we ended up liking where we live, settled down for awhile, and just have been living life ever since. At times, I miss being around the miniature horses and working with them. I also miss the peace that was living out in the middle of nowhere on the ranch. It was quite the experience! I'm thankful that I'm still not picking up poop everyday though!
What's the weirdest job you've ever had?