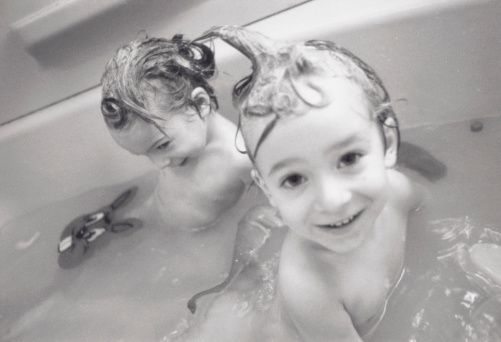 I have to let you all in on a little secret: I haven't used shampoo since umm before Labor Day. And no, my hair is not disgusting.  Well, not from lack of shampooing anyway. 🙂  Why the crunchy granola craziness?  I want to eliminate all unnecessary chemicals in our life, and save money at the same time.  I decided I would look for an all natural alternative to conventional shampoo; something that I could make myself and save a little money as well.  I found just that, and haven't looked back since.
When you use conventional shampoo, all of the chemicals that are in the shampoo make their way into your body via the pores in your skin.  If you're using shampoo with sodium lauryl sulfates (which is used also in commercial floor cleaners), you are entering those toxins into your body in a fast and easy way.

When we were in Colorado on vacation, I threw out the shampoo after we bought a "Squeaky Green" shampoo bar from Lush. I knew that I wanted to start out slowly as I heard there was a "detox period" that your hair goes through when you are weaning it off normal shampoo.  After using the shampoo bar for a week, I was hooked.  It made my hair feel so soft, luscious, and weightless!  I felt like I had done something really great for my hair.  I was happy I decided to ditch the shampoo.
About a week after we got home, my hair felt very weighted down, oily, and gross. It wasn't unbearable, but it was definitely not what I had experienced using the shampoo bar at first.  Luckily, I decided to keep on trying it and after a few days of that my hair was back to normal.  I then decided that I would try to use baking soda as a shampoo and vinegar as a rinse.  I was very hesitant the first time I used it.  It didn't lather up like I was used to, and I was so scared that my hair wasn't coming clean.  I kept with it, used my vinegar rinse, and that was it.  I let my hair dry and waited for the results.
My hair felt amazing! It felt like it was back to its natural state, so light and fluffy and wonderful.  I am so glad I switched.
How to No Poo Shampoo Your Hair:
I dissolve about 1 tablespoon to 1 cup of warm water.  I make sure that I take my fingertips and rub my scalp to loosen up oils and such.
Then I take the baking soda mixture and pour some on the left side of my head.  As I work that in with my fingertips, I pour some on the right side, and then down the back.  I make sure I massage it in well to remove all the sebum and oils that I don't want left.  If I feel like I need more baking soda, I add it to my soaking wet hair.
I use about 1 T of apple cider vinegar or white vinegar to 1 cup of water.  I then pour this all over my head to neutralize the basic baking soda and condition my hair.  Don't worry, you won't smell it after it dries!
This is it. That's all I do to no poo my hair.  It feels the best it's ever felt, and I feel great not using nasty chemicals on my body. I am also saving a ton of money and the environment by not purchasing shampoo!  I feel good all the way around.
I think you should give it a try. Think of all the money you will save! You may need to ease into it like I did with an all natural shampoo bar. You can also go gung-ho and just start using baking soda!  It's up to you.  If you have any questions, I'd be happy to help!
Now that you know how to no poo shampoo your hair, will you give it a try?