Well, the day has finally come.  As part of my "Love My House" campaign, I decided to redo my office. I ripped up the carpet a few weekends ago, and I'm so thrilled to say I've finally finished it!  It was a lot more work than I expected (when are house projects not?) but the end result is worth the blood, sweat, and tears.  And believe me, there was plenty of each of those.  Probably more tears than anything else.
Last fall I had painted the office, so luckily all I had to do was some touch up work around the baseboards and repaint those and the window trim.  After I removed the carpet (by myself, and I'm a little person, 5'1″) I discovered that there was original hardwood floor underneath.  I was bummed because it was in too bad shape to repair.  I'd have to replace boards and it would have been more trouble than it was worth.  Plus, Mr. Money wanted the hallway floor to match the office floor since they meet.
We went to Home Depot and purchased luaun, had it strapped to the top of our car (in the pouring rain nonetheless) and brought it home.  Over the period of a couple days I cut and fitted it to the office floor.  I borrowed a staple gun from a family friend and went to town stapling it.  (Only minor injuries to my hand)  After the stapling, I went down to the basement and brought up a few boxes of the laminate flooring that we had purchased for the living room a few months ago with a Costco coupon.  We're going to have to buy more now, but at least I have saved for it and didn't have to spend any money out of pocket this time for the materials.
I laid the floor, went back to Home Depot and bought quarter round to cover up the gaps, and installed that.  I caulked the seams, swept the floor, and now it's done.  It wasn't as frugal as my living room makeover, but I think I did pretty well. Here's what it looks like: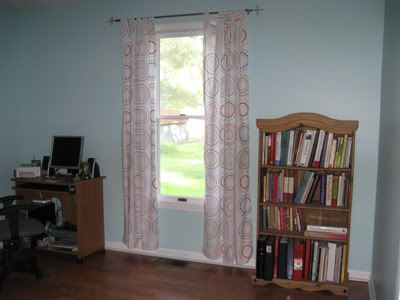 Next up: something for the walls, thresholds, and baseboards.
What do you think of my office makeover?