For awhile now we've wanted to harvest our rainwater from our roof.  I've been checking out various places online and it seems 55 gallon rain barrels normally run at least $100.  Yikes!  Of course I decided to research the best way to make our own, and was on a hunt for some food grade plastic barrels.  While I don't think plastic is the best, I figured that at least I could recycle a plastic barrel and stop it from going into a landfill.  You would think that because Mr. Money is a chef, he'd have easy access to a 55 gallon food grade barrel, right?  I did too.  It turns out they are harder to come by than I thought.
I started searching Craig's List for a rain barrel, and about a week into my search I came across some 55 gallon drums that had been storing soda syrup (ours had Mountain Dew in it).  The company is located about an hour and a half from us, and luckily Mr. Money was attending a food show close to there and would be able to swing by on the way home and pick up a couple.  They were $15 each.  Score!
Here's how we (Mr. Money) transformed our boring barrels into raging rain receptacles.
Here's what we started with:

 First, cut off half of the top with a saw.  Then cut out a hole in the bottom (where the spout goes) with a drill and a hole-cutting attachment.  The screw the spout in, remove it so there are threads, and then put it back in and caulk it.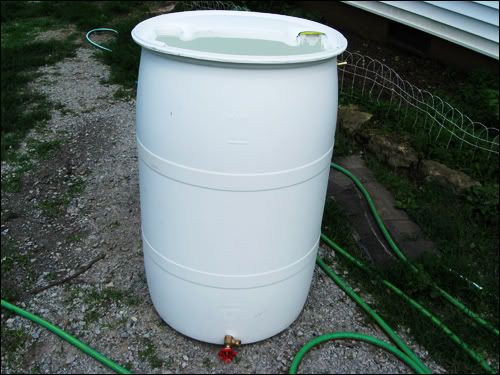 Next drill another hole near the top and put this overflow valve.

One of the last steps is to add netting to the top, secure it with a few pieces of twine, and you are good to go. Don't forget to add your netting otherwise mosquitoes will make your new rain barrel their breeding grounds! Gross.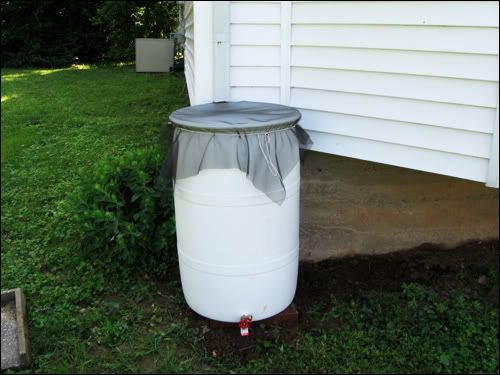 The last step is to make sure it's on level ground, cut off your downspouts, align, and wait until it rains! Voila!
What's your opinion on water conservation?