I've got some good news, and some bad news. The bad news is our summer garden is finally on its way out, and the good news is the fall garden is coming along nicely! Some more experienced gardeners may laugh at our little plot of land, but we're pleased as punch with what we got out of it this year, and can't wait to plant another new one next year! I took some pictures this afternoon.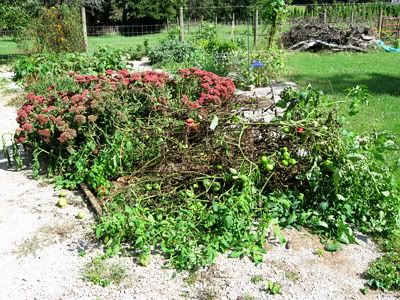 Two of our tomato plants tipped over sometime last night. We really haven't gotten too many off these plants yet (notice all the green ones!) so we are pretty bummed. When Mr. Money gets home from work, I'm going to have him go see if he can rescue them. By the way, these came up all by themselves and I transplanted them here. Can't beat that!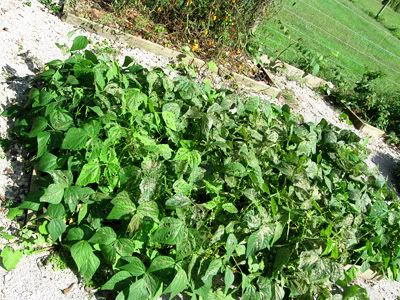 Something is getting my beans. 🙁 I planted these in August and they have been producing like crazy! We've been freezing them every chance we get, and man are they yummy! I looked today and there were little lady bug looking bugs on them and I found one yellow fuzzy worm-type thing. Gross!!
There are strawberries and peas in this bed. The strawberries were planted this spring and didn't produce anything all year. Maybe in the spring? The peas are doing quite well!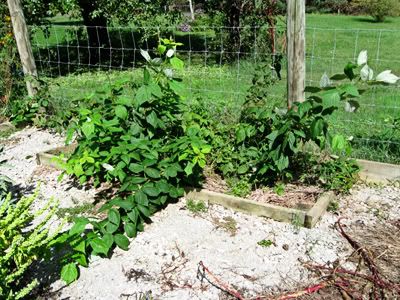 Raspberries are taking over! I'm going to try to dry the leaves in my dehydrator. They are good for making red raspberry leaf tea, which is very good for women.
The herb garden with sage, basil, and parsley. I should dry some of these too. I have enough sage to scare away all the spirits in the entire state!
This is my "fall garden". There are turnips, beets, collard greens, swiss chard, rainbow chard, kale, and spinach. These are tested to withstand (ha!) cold temperatures. Grow along, little veggies!