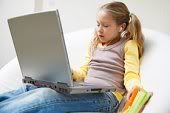 I think our computer is on it's last legs. Five years ago when we moved here, we bought the computer on my brand new credit card at 0% APR for six months.  It was around $1000 when we bought it, a nice Gateway desktop computer with flat screen monitor.  We paid it off over six months, although it was a stretch.
Now that we're considering purchasing a new computer, we're faced with many options. Do we buy a laptop or another desktop? Do we buy from Dell because I get a discount? Do we get a Mac like Mr. Money wants?  There are just too many decisions.
I'm leaning towards buying a laptop.  I like the idea that I can take it with me if need be.  I would love a Mac Book, but the frugal side of me does not want to spend that much money!  I don't know much about the different brands of computers, so I'll probably have to do some research.  At this point, I have no idea how much they even cost. I'm thinking $500-$1,000?  It looks like I have a lot of work to do!
Do you have any computer buying tips for me?