Let me tell you a story. Last Christmas, when we were up in Michigan visiting my family, my 50 year old uncle had a bag of clothes and miscellaneous items that he was getting rid of. Obviously we are totally into hand-me-downs, so imagine my delight when we received this large garbage bag full of stuff. Even though it was all stuff for my sweet hubby, I was still excited. Hiding at the bottom of the bag was this pair of shoes.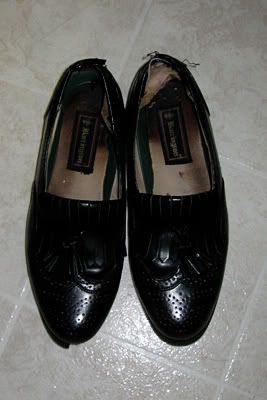 A lovely pair of dress shoes! Of course, they aren't perfect, but they are still in good shape. Keep in mind, Mr. Money is a chef, so he really doesn't dress up. It's kitchen clogs and chef coats for him every day.
"I don't think I really need a pair of dress shoes. I think I'll pass on these." He said.
"I think you should take them. They're free, and you never know when you'll need a pair of dress shoes. Better safe than sorry." I rebutted.
We ended up taking the shoes. Fast forward to a few days ago when he had to go downtown to some leadership conference for work. Those shoes came in handy.
About 1 PM on the day that he was downtown, he gave me a call to see how my day was going and to fill me in on the event.
"So… I'm in the conference center, walking around looking for something to eat, when I realize I step on a piece of rubber, kick it out of the way, and keep walking. (I'm thinking wtf, why are people just dropping pieces of rubber?) A few feet later I step on another piece of rubber. This time I'm like what the heck? What is going on? Where's all this rubber coming from?? And then I look down, pick my foot up, and realize that my shoes are literally falling apart as I walk." Now I'm picturing him wandering downtown barefoot, in a crowd of people. The thought makes me chuckle. Then laugh a little harder. At this point I'm laughing audibly. I'm waiting for him to get mad at me for making him take these shoes.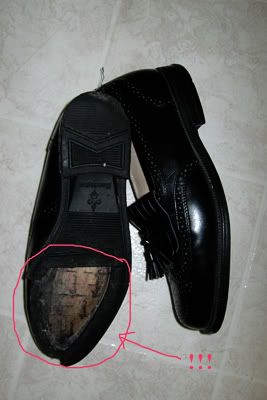 "Um, do you think you could bring my chef shoes to work after the conference?"
Of course I obliged, told him to call me when he was on his way, and told him to not throw the shoes away so that I could see them. When I saw them in person I think I laughed harder than when he told me on the phone. Sometimes it doesn't pay to be too frugal. And sometimes your spouse suffers at the expense of your frugality. 🙂
Anyone need a pair of shoes?